Archive for November 2005
Where is Iraq?
Posted by unclesmrgol at 28 November, 2005 23:16:49
Iraq has a national domain: .iq

But try finding anything there. A dig shows root servers, but try finding any domains. I wanted to register low.iq, but there was nobody there to take my order.

The primary contact is a gmail account.

What's even more interesting is that RIPE is serving the top level records. Iraq must therefore be in Europe.

So, from the Internet's standpoint, where is Iran (.ir)? A check indicates that Iran's nameservers are on uu.net and univie.ac.at. I think that means that Iran is somewhere between the USA and Austria.

I decided to determine where Cuba (.cu) is. It's between Europe and Hawaii, with a small hunk in Atlanta.

A map of just where each country is on the Internet would be quite interesting.
Balkanizing the Internet
Posted by unclesmrgol at 28 November, 2005 22:50:38
Let's put it bluntly. The Europeans don't like ICANN. They'd prefer EUCANN. Or, rather, ORSN. Concerned that ICANN represents a quasi-corporate arm of the United States Government, several European computing groups banded together to build a separate set of DNS root servers which are normally kept in synch with the ICANN ones, but which could be severed at a moment's notice to form a separate network.

This redundancy is to be applauded. If the United States were to close off the Internet in a time of crisis, the non-US parts of the Internet can rely on the Europeans to keep them up and running. Of, course, were that to actually happen, the Internet might never be reknit, because whoever owns the authoritative root servers owns the Internet.

Supposedly.

Now, everyone has so far been quite happy with the way ICANN has administered TLDs (Top Level Domains) such as .com, .org, and .net. ICANN has also responded to the namespace pollution of these primary TLDs (in may cases by speculators who hope to own the next loans.com) with the institution of other TLDs such as .info and .biz.

The business opportunities possible if one actually is able to control the creation of TLDs (or even to allow for a lack of them) has not been lost on the Dutch startup company UnifiedRoot, which would permit everyone who has such a desire to own their own top level domain. UnifiedRoot has now installed 13 root servers on four continents. This sounds like intense competition for ICANN, even worse than ORSN which primarily serves Europe. But is it?

Consider this. You would like the name "cougar" for your TLD. Pay UnifiedRoot only $1000 and an annual fee of $240, you can now own "cougar" and begin a brisk business of selling second level domain names based on cougar. But, but... what about all those private networks with machines named cougar in their hosts files? Tough shit guys, you get to change your network.

In a nutshell, in order for this scheme to work, every private network must actively do TLD avoidance. If you just subdomained all your hosts because some of them interfered with TLDs in UnifiedRoot, and someone just registered your subdomain, well, better choose another one quick and hope it doesn't get snapped up too.

Basically, I could not have invented a better way to balkanize the Internet. These guys have done a sterling job. Then again, maybe people will just stick with the ICANN roots, where this kind of stuff just can't happen.

So, UnifiedRoot, live well while you can on what remains of your venture capital.
Voting Day
Posted by unclesmrgol at 27 November, 2005 20:28:44
I voted last Nov 8th; to show you how out of touch I am with the rest of California, only 2 of the 8 things I voted on went my way, and both were "NO".

I actually participated in an election by doing something other than voting. I helped my niece with a campaign website for Al Muratsuchi, the guy she was electioneering for. Check out www.alfortorranceschoolboard.com (no, I didn't choose the domain name).

Also check out http://michaelyon.blogspot.com/2005/10/purple-fingers_24.html for a take on the recent Iraqi election.

I'm glad we don't have to risk getting killed to go to the polls.
RIFs and the LA Times
Posted by unclesmrgol at 27 November, 2005 16:08:42
The euphomistic "Reduction in Force" is happening over at the LA Times. The Times, due to bad subscription performance, is in a world of pain, as is its parent Chicago Tribune, which assumed a large chunk of debt, followed by an even larger tax bill, as a result of the purchase of the Los Angeles Times. You won't read about this in the Times itself, but the first group of "voluntary separation" packages have already been delivered to those workers over there elegible for layoffs. The objective is to lose 80 people ASAP. This is, of course, cannibalism; the creature is eating its own limbs to stay alive.

People apparently have either lost faith in the printed newspaper or have found other places to get their news. From what I hear, it's like the Titanic is going down. Slowly, magestically, but going down nonetheless.

Me, I've lost faith in the Times because I think they have a liberal bias over in the editorial department to the point where reasoned conservative commentary is suppressed in favor of printing the guys from the looney bin. Examining the Comics page is always instructive -- you can actually determine Times politics from which strips they run and which they do not. I know many conservatives who long ago dropped their subscriptions to the Times; they are always amazed when I say I still have mine.

If you look below, I think I had a very good observation about the German Intelligence services. Not printed. When the Embryonic Stem Cell Initiative was on the ballot, I wrote several letters commenting on the cronyism and the lack of science backing the initiative. Not printed; what were printed on the conservative side generally mentioned the word "God", which gives you a sense of their content.

When I have submitted letters which agree with Times editorial positions or which agree with but precede or proceed from an article the Times is running, I get printed. But I can count on half the fingers of one hand the times I've been printed when I took a position counter to the Times, which are the overwhelming number of Letters I have submitted.

That said, the Times does its best to keep local politicians honest, and seems to be very good at finding the hands in the cookie jar and slapping same. I think the Times' reportage was critical in getting rid of Mayor Omar Bradley of Compton, a fellow who treated the city treasury as if it were his own; in the days before he was ousted from office, he drove the City so deeply into debt that it took several years and a large hunk of the remaining budget to shut down the contracts awarded to his cronies. This is why I continue to support the Times even though we are far apart politically.

LA Times: Cheney's History needs a revise?
Posted by unclesmrgol at 26 November, 2005 17:26:19
Tim Rutten (LA Times, 26 November 2005) shows why his column isn't in the California section of the Times. In the Times, the California section contains Letters and Editorials. To the Calendar section goes everying thing involving whimsy and fantasy, such as movie reviews.

Guess where the Times chooses to put Rutten's column.

In his latest [Chaney's history needs a revise, 26 Nov 2005], he begins by para-quoting Dick Cheney's statement that claiming that the current Administration either distorted or exaggerated pre-war intelligence was historic revisionism "of the most corrupt and shameless variety".

Rutten then goes on to dot his t's by pointing out that Chaney made his statements just 24 hours after the Times article [November 20, 2005] on Curveball, in which the Times asserts that the United States used discredited Curveball intellegence as the main justification for the invasion, while knowing full well that the intelligence was false. The Times' sources for this article were the German superiors of Curveball's handlers [Curveball was a German intelligence asset, not an American one. The Germans chose to share Curveball intelligence with us.]. They claim that they told us that Curveball wasn't to be believed.

The Times later published 3 Letters, all castigating the Administration for its falsehoods, in response to the article .

Tim Rutten then did his Calendar section hit piece.

Here is the Letter I submitted to the Times on the same matter, which apparently got swallowed somewhere in their angst circuits:

Dear Editor,

It's interesting that the Times now chooses to believe without a shred of doubt high officials in an intelligence agency. These guys have strong reason to cover their posteriors. An intelligence agency does not report unvetted intelligence to another agency (even a foreign one) without a reason; I suspect that, contrary to their statements, the German handlers of Curveball, as well as their superiors, had every belief that the intelligence they were obtaining from him was true, and every bit to gain by giving what they felt was ground truth to the United States. The other possibility is too gruesome to consider -- that the Germans deliberately gave false information to the United States for some reason that would ultimately benefit Germany.
Sincerely,
[All Times Required Contact Info]
[UncleSmrgol's email address]

Our country's intelligence services practice data fusion. That means that you take a lot of different bits of data and put them all together; hopefully, you get the Big Picture. The Big Picture the United States got was that Saddam Hussein had weapons of mass destruction. We believed it so much that our soldiers wore chemical suits during the invasion [hampering somewhat their efficiency and increasing their risk in a firefight]. Saddam's generals defending Baghdad believed it so much that they were (as the Times duly reported) on the comm lines frantically asking when the stuff was going to be unloaded, because those damned Americans were punching through their lines. They all seemed to think it existed but they did not have control.

The data from Curveball was probably in our High Officials' speeches because he wasn't our asset and primary rule number one about intellegence is Never Give Up Your National Assets. So we gave up a German one and a minor one at that.

If we get it right, the chemical suits were unneeded, the stuff just plain didn't exist, Curveball was either wrong or a liar. But if Saddam's generals believed it existed, then someone in the Iraqi Government was playing a tune both we and the generals were listening to, and the tune was either truthful or untruthful, but the message was: We have WMDs and we will use them if you invade us. Curveball's message in that context is therefore consistent.

The message was so consistant and so long that it predated the Bush Administration by several years. Consider these quotes:

President William Jefferson Clinton [17 Feb 1998, speech at the Pentagon]:
...
In 1995, Hussein Kamal, Saddam's son-in-law, and the chief organizer of Iraq's weapons of mass destruction program, defected to Jordan. He revealed that Iraq was continuing to conceal weapons and missiles and the capacity to build many more.
Then and only then did Iraq admit to developing numbers of weapons in significant quantities and weapon stocks. Previously, it had vehemently denied the very thing it just simply admitted once Saddam Hussein's son-in-law defected to Jordan and told the truth. Now listen to this, what did it admit?
It admitted, among other things, an offensive biological warfare capability notably 5,000 gallons of botulinum, which causes botulism; 2,000 gallons of anthrax; 25 biological-filled Scud warheads; and 157 aerial bombs.
And I might say UNSCOM inspectors believe that Iraq has actually greatly understated its production.
As if we needed further confirmation, you all know what happened to his son-in-law when he made the untimely decision to go back to Iraq.
...
If Saddam rejects peace and we have to use force, our purpose is clear. We want to seriously diminish the threat posed by Iraq's weapons of mass destruction program. We want to seriously reduce his capacity to threaten his neighbors.
I am quite confident, from the briefing I have just received from our military leaders, that we can achieve the objective and secure our vital strategic interests.
Let me be clear: A military operation cannot destroy all the weapons of mass destruction capacity. But it can and will leave him significantly worse off than he is now in terms of the ability to threaten the world with these weapons or to attack his neighbors.
...


Senators Tom Dasche, Dianne Feinstein, John Kerry, Joe Lieberman, Barbara Milulski [9 Oct 1998, letter to Pres. Bill Clinton],"... urge you, after consulting with Congress, and consistent with the U.S. Constitution and laws, to take necessary actions (including, if appropriate, air and missile strikes on suspect Iraqi sites) to respond effectively to the threat posed by Iraq's refusal to end its weapons of mass destruction programs."[At this point, Kerry is Chairman of the Senate Select Intelligence Committee, one of the few people in the world with the ability to summon top US intelligence officials for private briefings.]

President William Jefferson Clinton [16 Dec 1998, speech]: "Earlier today I ordered America's armed forces to strike military and security targets in Iraq. They are joined by British forces. Their mission is to attack Iraq's nuclear, chemical and biological weapons programs and its military capacity to threaten its neighbors." [Here we have President Clinton dispatching forces to deal with nonexistant WMDs about 2 years before Bush takes office.]

Senator Barbara Boxer [8 Nov 2002, speech]: "Iraq made commitments after the Gulf War to completely dismantle all weapons of mass destruction, and unfortunately, Iraq has not lived up to its agreement."[Should we give Barbara the benefit of the doubt and allow her a run for President? This quote happened after Bush took office so she can claim like the rest of her ilk that she was duped by the lies of the Bush Administration]


The Allens' Pyhrric Victory
Posted by unclesmrgol at 26 November, 2005 02:45:09
While researching the Malkin article below, I came across some related information at an interesting site called www.internmentarchives.com, which is run by Lee and Sam Allen, who obviously have their own (what I consider revisionist) position on the Evacuation. The Allens, aided by their Congressman, Christopher Cannon, mounted a challenge to a Smithsonian Institution exhibit called "A More Perfect Union", which detailed the history of the Evacuation. They particularly wanted to see included Magic intelligence which they felt would validate Gen. DeWitt's decisions regarding the Evacuation. They also found fault with various numbers cited in the exhibit regarding the combat history of the 442nd Regiment. The Congressman's letter to the Smithsonian seems to be of the blackmail type -- make the changes my constituents want or else.
In any case, the Smithsonian decided that the Magic stuff proposed by the Allens was not germaine, but that various numbers associated with the 442nd were indeed incorrect. These were the changes indicated here:


Purple Hearts: Exhibit claims 442nd received 9,486. Adjusted to "between 3600 and 4200".


Silver Stars: Adjusted to "between 354 and 400".


Casualties: 845 during 25 days of continuous action is adjusted proportionately to reflect the exhibit's indication that the 442nd required seven days to rescue the Lost Batallion


Contributions by persons of Japanese ancestry to the Intelligence Services: The Allens found fault with an estimate that these contributions shortened the War by two years. The Smithsonian agreed that this portion of the exhibit was misleading, and proposed to replace the faulty wording with this quotation from Col. Mashbir, head of the Asiatic Theatre Intelligence Service: Had it not been for the loyalty, fidelity, patriotism, and ability of these American Nisei, that part of the war in the Pacific which was dependent on intelligence gleaned from captured documents and prisoners of war would have been a far more hazardous, long, drawn out affair. At a highly conservative estimate, thousands of American lives were preserved and millions of dollars of materiel were saved as a result of their contribution to the war effort."


An examination of their site yields no copies of the Magic intelligence they believe mitigates the Government's actions [a few pages of that intelligence, non-mitigating of the wartime Government;s position, is found at http://www.athenapressinc.com/mm01.htm]. The above materials from the Smithsonian letters indicate the kind of nitpicking the Allens were reduced to at the end. Even when the downward adjustment to the 442nd's record was done, the numbers were STILL impressive. And left as fact but unstated in the exhibit are the 845 casualties during 25 days of operation; this was apparently adjusted because the exhibit only detailed one aspect of the 442nd's operations -- the rescue of the "Lost Battalion" during the Battle of the Bulge. With the adjustment we have (7/25)*845 or about 236 casualties. They rescued approxmately 200 men (out of 600 orignal enrollees). Hence, my statement below about them taking more casualties than the group they rescued is incorrect; the Lost Battalion definitely had more casualties during the 6 day period before they were rescued. Of course, the contributions of the Lost Battalion cannot be understated -- they helped stall the German advance to the point where it could be broken.
These are Michelle Malkin's fellow-travellers. I'm sorry, but it almost shames me to be a conservative in this company.
A Jap's a Jap
Posted by unclesmrgol at 26 November, 2005 01:23:38
In a nutshell, that's Michelle Malkin's stated position in her book "In Defense of Internment". It's the sentiment that Gen. John DeWitt used in his report justifying the Evacuation.

He wasn't the one to coin this phrase. The first public use was by Congressman John E. Rankin (D-Miss)[15 Dec 1941]: "Once a Jap, always a Jap! You can't any more regenerate a Jap than you can reverse the laws of nature!" Rankin and DeWitt may have been racists, but they weren't alone -- Franklin D. Roosevelt turned out to be one too.

Malkin may have her own rusty ax to grind against the Japanese -- she is a second generation Philipina-American (counting the first generation as the immigrants); various members of her family were active in the resistance against the Japanese occupiers of the Phillipines. My own experience in the late 1970's would be instructive; I was enrolled at UCLA and there had a good friend, a woman from Korea, who hated the Japanese with a passion I had never seen before -- not even from my father who lost his brother at Iwo Jima and who joined the Navy at 16 to fight the Japanese. When I talked to her about the Internment, she was adamant that the Japanese in this country deserved it. That's exactly the words she used -- "deserved it". I was not entirely insensitive to this sentiment -- my childhood had been filled with movies like "The Sands of Iwo Jima" (still one of my favorites -- I cry whenever Sgt. Striker dies), and neighborhood wargames were always held with the bad guys being either the "Japs" or the "Nazis". I would not meet a person of Japanese ancestry until I moved to California in the tenth year of my life.

I suspect that a similar bias causes Malkin to forget her own conservative roots in a kneejerk response to the Internment. We conservatives have a strong view that the rights of the individual ought to outweigh the rights of the many. That's why we get all upset when the Supreme Court rules that that "takings" portion of the Constitution don't apply to private residences being razed by a community redevelopment agency at the behest of private businesses. That's why we get all upset at things like Affirmative Action, in which groups of people are accorded privileges at the expense of individuals not in their group solely on the basis of discrimination by yet a third group. How Malkin lost sight of that vision is a mystery.

In the case of the Internment, we had every person of Japanese ancestry being removed from large areas on the West Coast of the United States. Their property was confiscated (particularly metal things like bicycles, guns, farming tools, and automobiles), or they were forced to sell for pennies on the dollar (all too rare were neighbors who, understanding their plight, took care of their possessions and restored them to the evacuees when they returned). Not just foreign nationals, but United States Citizens as well, were ripped from their homes and sent into the camps. Not just from coastal areas, but from huge areas of the Central Valley, where many Japanese had settled and had, with back-breaking work, converted desert lands into productive farmfields. In fact, the pattern of removal corresponded not so much with coastal or interior areas or closeness to defense installations, but with the level of anti-Japanese sentiment or the amount of money to be made by locals should the Japanese be forced to leave. So, the entire State of California was evacuated, but the eastern halves of Washington and Oregon States were not.

Arguably, some might be part of a 5th column, as Malkin alleges. Malkin points to Magic decodes as a reason to suspect a 5th column; if such decodes really indicated a substantial 5th column, the decodes would also have indicated the identities of individuals providing such information, as well as their areas of operation. There would have been no need to evacuate on the basis of "racial necessity", as the Roosevelt Administration so adroitly put it. The two magic decodes I saw at http://www.athenapressinc.com/mm01.htm mention the desire to use as intelligence resources negroes, labor unions, anti-semites, communists, persons of foreign ancestry, and, with great caution due to possible repercussions, persons of Japanese ancestry -- all groups which might supposedly have a grievance against the United States Government. The intelligence sections to which this request was to be routed were Mexico City (to become the nerve center of Japanese intelligence in the event of war with the United States), Mexicali, Canada, San Francisco, Honolulu, Portland, Seattle, New York, New Orleans, and Chicago. Note that this intercept indicates Japanese intentions, not actual capabilities. It is enlightening to see that Honolulu was one of the destinations of this cable, but no persons of Japanese ancestry were relocated from Hawaii, where the danger to the United States was obviously the greatest [especially after Pearl Harbor] and the percentage of the population being of Japanese ancestry was greatest. It is further enlightening to note that not one charge of espionage was ever brought against any person of Japanese ancestry even in Hawaii. In hindsight, the Japanese Embassy in Honolulu did not acquire military information used by the attackers at Pearl Harbor through a 5th column of persons of Japanese ancestry -- the Japanese military attaches and intelligence officers gathering information merely had to use their freedom of movement about Honolulu to take pictures and buy newspapers. The United States Government admitted in 1943 that German agents had also been active in Hawaii in support of the Japanese attack; had there been a large 5th column of Japanese-Hawaiians willing to do the work, the Germans would not have been needed.

Malkin argues also that, because a substantial number of white citizens (generally suspected Nazi sympathizers) were also evacuated, a similar justification for Japanese-American evacuation exists. This is sort of like saying that two wrongs make a right. Malkin conveniently ignores the fact that proportionately, very few whites were incarcerated. Had the United States chosen to imprison all people of German or Italian ancestry, a claim of proportionality might be made. But the United States chose only one ethnicity to practice total removal on -- the Japanese. Personal Note: I am a person of partial Sicilian ancestry. On that side of the family, four uncles served with honor in Europe during WWII; all returned safely. My Grandfather (who sort of sounded like the Godfather because of exposure to coal dust) diligently worked the mines in Pennsylvania, finally dying of the Black Lung in the late 1960's

By the way, this article dovetails neatly with a personal incident. When the issue of reparations to Japanese Americans was being debated, I wrote a Letter to the LA Times supporting reparations. As all Times submissions do, it carried my true name and my city of residence. Imagine my surprise when, on Sunday morning, I got a call from a person of the opposite political viewpoint. This was the first call on the subject, and, unlike later calls, would not be vitriolic. The man (I leave his name unstated for his privacy) stated that he and his wife had been in the Phillipines when it was captured by the Japanese, and as American foreign nationals they had been interned at Santo Tomas, and had been badly treated as a slave laborer. He further stated that he could not see paying reparations to the Japanese as long as the Japanese were never going to pay reparations to him. He then asked me to respond to that position. My response was that the Japanese had the right to intern him as a citizen of a belligerent foreign power, but that they had never had the right to mistreat him and that as a civilian he should have been repatriated at the earliest possible time. I said that I felt the same about any person holding Japanese citizenship in the United States at the outbreak of war with Japan, but that our government had gone far further than that -- it had incarcerated its own citizens without due cause -- and those were the individuals I called Japanese-Americans. I then said that, just as I supported reparations for our own citizens held without cause, or for Japanese citizens held without possibility of repatriation, I felt he had a case for reparations against the Government of Japan for what it had done to him. We parted cordially, but to my surprise I found him present in a photograph of individuals trying to present a petition to the Japanese Consulate in LA, and later as a plaintiff in a lawsuit against the Japanese Government [which turned out badly for him, because the Japanese Government successfully argued that the Peace Treaty of 1952 (signed in 1951) immunized Japan against private lawsuits by American citizens over mistreatment during the War.]

The title line to this article comes from General John L. DeWitt, whose writings and public utterances make it clear that he was a racist. He was the General in charge of defending the West Coast of the United States from a possible Japanese attack. He was also the architect for the entire Evacuation. President Franklin D. Roosevelt was under intense pressure from Democratic racists in California (including Governor Earl Warren) to do something about the "Japanese problem", and, sadly, he caved in to the pressure from both them and DeWitt and issued Executive Order 9066, which eventually resulted in the removal of 110,000 people of Japanese ancestry from the Western coastal states. At the time of the evacuation, FBI reports indicated no unidentified national security issues with the Japanese American population (J. Edgar Hoover had personally assured Roosevelt that he knew of every enemy supporter, and stated in a memorandum to Attorney General Biddle that an evacuation could not be supported by factual data). When several of the Evacuees attempted to challenge the evacuation orders in court, the cases eventually wound up in Roosevelt's "packed" Supreme Court, which duly rubber-stamped his Executive Order as well as subsequent orders applying to persons of Japanese ancestry.

DeWitt's justification for the evacuation is in the public record. His depiction of 115,000 persons of Japanese ancestry as unassimilated Emperor Worshippers is particularly lucid. The fact that Hawaii, not under his control, was not evacuated even though persons of Japanese ancestry in that territory were even closer to various defense installations needing protection is also particularly lucid. Note that the Government has never claimed that any person of Japanese ancestry in Hawaii committed espionage other than those in the Japanese legation based in Hawaii.

That the population generally went docilely (not voluntarily -- docilely) to the camps is an indication that the FBI was right. Actually, approximately 10,000 people did move voluntarily -- from western to eastern California. The voluntary move was only temporary, because DeWitt extended the mandatory evacuation order to include all of California -- the only state in which the eastern portion was also included, and a hallmark of the rampant racism in California at the time. The Government couched explainations of the order in terms that indicated concern for the safety of the evacuees against the prejudice of their neighbors; all illusions vanished when the evacuees arrived at their new homes and found that machine guns around the perimeter of the camps were turned inward rather than outward; incidents involving the shooting deaths of internees who for any reason crossed the "dead line" surrounding each of the camps is well documented.

Japanese-American politics at the outset of the war were complex (but not so complex that the FBI was not unable to identify and isolate all the various community leaders at the outset of the Evacuation). As in all long-term immigrant groups there were at least five separate political subgroups -- original immigrants (the "Issei") who were prepared to swear allegience to the United States, but could not because of the Alien Exclusion Acts, "Issei" who still had an allegience to Japan and who had expected to return there to die in their old age, a group ("Kibei") of the second generation, American citizens, whose primary allegience was to Japan (Kibei means "returned people" in reference to those who had been sent to Japan as children for education, and later returned), a group ("Nisei") of the second generation, American citizens, whose allegience was to the United States, and the third ("Sansei") and beyond generations ("Yonsei"), American citizens, whose allegience was to the United States.

Complicating this still further, the Evacuation further fractured the political mix; the despondancy that resulted from their own country treating them as if they no longer had citizenship made some of the "Nisei", "Sansei", and beyond become the "No, No" boys -- individuals who answered a loyalty questionaire administered to draft-age males in the evacuation/relocation camps (I reserve the words "concentration camp" for the camps run by the Nazis in Europe) with answers indicated that they were not willing to serve the United States. However, the overwhelming portion of males, including Issei, administered the questionaire answered "Yes,Yes" and firmly indicated their willingness to serve their Country. As the 442nd Regiment, they went on to history during the Battle of the Bulge (where they rescued the "Lost Battalion" at a casualty cost greater than the number they rescued), served nobly in the Italian Invasion, and, at great personal risk, served as intelligence gatherers in the Pacific.

A sign of the level of loyalty to the United States is the very low number who decided to be repatriated to Japan rather than remain in what was in effect prison in the United States; these were generally of the Issei and Kibei classes. Anecdotal evidence indicates that some of these people did go on and serve in the Japanese armed forces; several prisoner reports by prisoners of pilots and soldiers speaking Western-flavored English abound.

That these people went willingly is the strongest mistruth Malkin states; of the five people I know who went into the camps, none went willingly; in one case, to escape the camp, a person volunteered to relocate from Manzanar to Washington D.C. on the east coast (such relocations were permitted only in late 1943, after several years of incarceration); she promptly returned to California at the end of the War. She stated that the only reason she agreed to relocate to Washington was to get out of the camp. My personal findings appear to match those of President Gerald Ford's Commission on Wartime Relocation and Internment of Civilians. That the first attempt at Evacuation was voluntary is a matter of record; so is the extremely tepid response by the proposed Evacuees, as is the resulting mandatory order involving the Army. There are many oral histories of life in the Camps now being gathered, and quite a few of these are out on the internet. The politics of the individuals interviewed range from liberal to conservative, but all seem to have one theme in common -- that Evacuation was not done willingly, was a hardship, and was unAmerican.

It cannot be understated here -- it took the Republicans to even partially undo what the Democrats had done. At the Manzanar museum, this fact is obvious merely by examining the instruments used to incarcerate and those used to exonerate.

As for Gen. DeWitt, consider this epitaph concerning the Evacuation at www.arlingtoncemetary.net, a private website commemorating the contributes of our servicemembers who lie at Arlington: It may be said for him only that he was aging and inclined to take counsel of his fears.

That's why I'm so flummoxed by Michelle Malkin's position. She really ought to know better.

Mr. Dillon Myer, Director, War Relocation Authority: Noone it seems to me is in a position to question the loyalty of Mrs. Masakichi Takahashi who wears a service pin with five stars for her five sons in the service; or of Captain Taro Suzuki who led a group of Japanese-American soldiers to rescue allied paratrooper trapped at Benevento; or Yosh Omiya whose eyes were destroyed by a land mine as he was crossing the Volturno River; or of Sargeant Kazkuo Komoto who will limp for the rest of his life as a result of wounds received in the Pacific Theatre."

Do a google search on "Harry Sumida Spanish American War Veteran" and see what pops up.

Quotable Quotes
Posted by unclesmrgol at 25 November, 2005 23:01:56
Found in the testimonials section at crisispictures.org
Dear Folks,

The photos of wonderful funeral services for US soldiers brings me no tears. I am the single mother of 2 sons, who could have volunteered for military service, but chose to go to college instead. They were lucky, smart, and able to get scholarships. After all the damage the US has done in other countries and our own (bringing drugs back from Vietnam and the Contra war), I don?t understand how any parent can be proud of sending their kids off into the service! The military is just using their kids to do their dirty political work. Do I feel proud of US soldiers who went to war with boots and helmets, to kill barefoot, helmet-less folks protecting their country from an invasion? No, I feel angry, that they should not be there. I am proud of the kids that refuse to carry out immoral orders, and refuse to obey orders when it goes against their judgment. I am proud of conscientious objectors, who know, in their hearts, that killing poor people is wrong. The US soldiers were not forced into their situation, unlike the Iraqi defenders. They can refuse to kill if they have the strength. They can also stop tearing gold earrings out of dead Iraqi girl?s ears!
Karen

Hi there from Virginia.

I?m a liberal white male in conservative Virigina where god, country, and all that other crap goes hand in hand. I thank you for showing what war is truely about, the dead, the maimed and those who have to live with it. Unlike the sanitized news from from Fox, Abc, Cnn and the others, this shows what war is about, killing somebody else before you are killed (sounds something like Patton once said). I am a student of history and and I see many similarities between Iraq and Vietnam with one tenant this country seems to have forgotten: Never get involved in a land war in Asia....


Karen might not cry, but she forgets a few things. These are ex-Baathists, and while they might be helmetless, they are carring RPGs and assault rifles; they are the people we saw execute the crew of am unarmed helicopter carrying construction equipment. They are the same people who, just a few days ago, blew up two mosques in the middle of services. And they are the same people who blew up a wedding party in Jordan. And if fuzzy-minded Karen thinks about things a bit, nobody, especially a 12 year old, wears gold earrings in a lawless place -- they are kept well locked up at home. To be honest, Karen, if the Ali Babas came and got you and your two splendid children, I would think a bit before I'd cry. Finally, I can understand why you are single.

And, Mr. Liberal White Male, combining Patton and The Princess Bride is a horrible farce. And truely is not spelled correctly. And "all that other crap" is why you can sleep soundly at night. And when you are in a war, if you don't kill the other guy before he kills you, you are dead, and that makes for a very bad night's sleep.

Pat Morita, R.I.P.
Posted by unclesmrgol at 25 November, 2005 21:52:29
Pat Morita, who played "Mr. Miyagi", one of my favorite characters, is gone at the age of 73.

Daniel-San: Where'd all these cars come from?
Mr. Miyagi: Detroit!

And the perennial Mr. Miyagi quote: "Wax on, wax off!"

His character was witty, wise, compassionate. He did it so well you had to believe that was how he was in real life, and, apparently, that's how he was.

Sort of like Jimmy Stewart and Bill Bailey.

Had Pat been a little older, I suspect he would have been a real Jimmy. While Pat was languishing as a pre-teen kid in a concentration camp in Arizona, Jimmy was piloting bombers over Germany.

He's my hero in another way. He was an aerospace worker who rose to a top level in technical mangement (at Aerojet) and tossed it all for comedic work. He probably would have been a very tough, fair, and funny guy to work for.

Rest in Peace, Mr. Morita.


Thanksgiving Dinner
Posted by unclesmrgol at 25 November, 2005 16:20:22
We had that rarest of delights yesterday -- Thankgiving Dinner at a person's home when the person wasn't there. In this case, the only family people with a home suitable for entertaining were at dinner with the other side in Las Vegas. So there we were, with the stuffing, rice, deviled eggs, baked salmon, etc. -- but NO TURKEY. Where was the Turkey? About 47 miles south in orange county, where my brother-in-law was struggling with the cooking resistance of the largest turkey he had ever attempted, for what was the smallest family party we'd ever had. At 8PM the Turkey finally arrived, but I didn't get to enjoy it for another hour because I was on a Charity Case.

For programmers, a Charity Case is when someone's computer won't work, and they politely ask you to fix it. You have two choices,
a) Refuse, and have them believe that you are less technically capable than you really are, or
b) Accept, and have them know that you are less technically capable than you claim.

In my case, I had hit the Accept button provided by another brother in law who is a system administrator. Since I had been so good removing the adware from my nephew's computer, uncle (not father of nephew) decided I was worth a try for some stuff he hadn't been able to fix on a friend's daughter's computer.

Here we had a top of the line IBM Thinkpad running Windows XP, owned by a college kid at USC, which is acting slower than any computer I had ever encountered -- even my 8086-based Compaq Deskpro had run faster than this dog. Bro-in-law tells me he's defragged the hard drive, updated Norton signatures from April this year to present and cleaned over 200 viruses off the box, and upgraded the machine from SP1 to SP2 and applied ALL the critical fixes. As the capper, he installed the Microsoft anti-adware beta and ran it.

My brother in law is no slouch, so when he decided to punt to me, I took it for the serious challenge it was.

Boot computer. Focus always follows mouse pointer for about 2 inches until you stop. Yahoo, quicktime, aol. Open Internet explorer. The top third of the brower is add-in bars.

Try bringing up task manager to look at performance stats. Task manager won't start. Oh boy. Someone has hooked Task Manager?

Install Spybot Search and Destroy. Update Spybot's database. Run Spybot. Spybot completes in about 5 seconds and announces the machine is clean. Gads, these guys have hooked Spybot too?

Go into control panel and see what software is installed. Whatever it is, it isn't in the list.

Check the install directories. Limewire, minibug. Check for LSPs; none. Delete all parts of Limewire and minibug I can find. Reboot.

After reboot, Task manager returns. He says 256MB main memory and the processor is running at half its rated speed. Fix laptop settings to let processor run at full speed when plugged into wall outlet.

Reboot. Machine still runs like a slug. Spybot Search and Destroy. This time, it runs like its tires are biting into something. Lots of cookies. Only one adware -- Wild Tangent. Kill Wild Tangent; reboot. Bro-in-law has already informed his friend that daughter's computer needs more memory to deal with XP's hoggy nature.

Final test: Run ad-aware. It finds a few cookies, but nothing terrible.

Final configuration: Remove Netscape 7.2; add Firefox 1.0.7.

Machine comes up and everything seems fine. Runs at full speed. Time to fix: 135 minutes. Time for Turkey.




"Pedophile Priests", Steve Lopez, and the LA Times
Posted by unclesmrgol at 25 November, 2005 13:48:34
Steve Lopez, a columnist at the LA Times, has been at the local forefront of a movement to get the public to understand that the Catholic Church is responsible in what Steve believes is active aiding and abeting of the abuse of minors by priests. His particular target is Cardinal Roger Mahoney, the head of the Los Angeles diocese (a diocese is a Catholic administrative unit similar to a conference in Methodist or Lutheran circles).
As a Catholic, I'm with Lopez in my opinion that the Church, including Cardinal Mahoney needs to acknowledge the sin, but, also as a Catholic, I require the Church to do whatever penance can be done to repair the damage done to those affected by the abuse, and, furthermore (in the words of the Act of Contrition, a prayer to God said by most Catholics in the Confessional), "resolve, with the help of Thy grace, to sin no more and to avoid the near occasion of sin".
The Church has acknowledged the sin, but penance is more difficult. Most of these priests at some point acknowledged their sins in the confessional, made the promise to sin no more, and then, if the confessor were unenlightened, were given three our fathers and two hail marys as penance and a ticket to reoffend. If the confessor was enlightened, the story sadly didn't appear to be much different -- the offending priest was removed from ministry involving children, sent to psychotherapy, finally pronouced cured, and then allowed to reoffend. The fact that a sin is told under Seal of Confession means that the priest who hears the confession (even if he be a Bishop or Cardinal) is bound by the laws of the Church not to reveal such a confession unless he fears that the confessor is about to commit further harm. Steve Lopez just can't understand the necessity for the modern form of Confession (much less the secrecy surrounding what is said in Confession). Being a modern American secular he expresses a thorough belief in the American system of justice (when he chooses to do so -- there are plenty of Lopez articles to the contrary). He conveniently ignores the fact that the Church is a worldwide institution, several millenia in life, which has seen firsthand the kinds of injustice a repressive government can commit. The Church's laws are supposedly a bulwark against such abuse, but can be abused by those inside the bulwark.
The Church has a position that sinners who ask for forgiveness of their sins are to be forgiven, provided they atone for their sin in some meaningful way (the Sacrament Reconciliation). This is that curious blend of Faith and Works Jesus taught and whose meaning is lost to most non-Christians and occasionally to some Christians themselves. In the case of these priests, the same culture of forgiveness and atonement allowed them to remain men of the cloth and to again be placed into positions to reoffend. In many cases the priests underwent psychological counseling and were cleared by their doctors to reenter the priesthood.
Notice the intersection between the Church and psychology; the Church runs hospitals and has a strong belief in psychology as a medical science whose use is in accordance with Church teachings. In the 1960's through the 1980's standard psychological teaching was that pedophilia was a tendancy whose suppression could be trained. This was also the period where homosexuality went from being an abnormality to being normal, with the implication that it could not and should not be trained.
My point here is that psychology, which can be so enlightening as to the current mindset of a person, is a broken tool for these cases, because psychology does not recognize homosexuality as an abnormality. Hence, in a nutshell, to many psychologists, the priests were not ill. You might think I'm being extreme here, but take a google look at "Rind Report", which in a nutshell was a paper published in the American Psychological Bulletin which makes the claim that sex between children and adults can be beneficial to the child. Then cruise on over to NAMBLA (North American Man-Boy Love Association) for their view of this same report. Finally, cruise on over to the Netherlands, where sex (either homo or heterosexual) with a consenting minor aged 12 or over is not a crime (in fact, parents who actively oppose their child having sex can have their parental "privileges" taken away).
Now, the affected priests we see so much of in the news were not actually pedophiles. Pedophilia is defined as a sexual attraction to pre-pubescent children. That is not the profile of the most common priestly offender; these are mainly ephebophiles (from Greek word ephebos meaning "a person in early manhood") -- people sexually attracted to post-pubescent males.
In an earlier era, the disease of ephebophilia would have been a sub-catagory of the disease of homosexuality -- a sexual attraction to persons of the same sex. But because homosexuality has been redefined (in American psychological circles anyway) as "not a disease", there is no longer a relationship between homosexuality and ephebophia, regardless of the meaning of "ephebos".
With brings me back to Steve Lopez. In his article "Vatican Keeps Blurring the Issue" [Los Angeles Times, November 25, 2005], Steve rails against the Church because the Church has determined not to allow priests who practice "gay culture" or "have deep-rooted homosexual tendencies" (these words are from a draft of Vatican document due to be published 29 Nov 2005). He trots out
Eric Barragan
of Santa Paula, who says to Lopez about the new Catholic policy, "They're trying to play the blame game".
One has to be wondering what is going through both Steve's and Eric's minds because Eric is a poster child for the rules the Church is putting into place. Eric is now 30 years old, but he was abused for four years (ages 13-15), along with two other brothers (one, Edgar, had been abused by the priest several times before the priest turned to Eric). Male post-pubescent child -- matching in profile most of the other children abused by priests; just ask
Stephan Rubino
, an attorney who has represented plaintiffs in nearly 300 cases against claimed abuse by Catholic clergy, and who may in that adversarial respect be the best friend the Church has in these times. Rubino makes no bones about the fact that over 85% of the abuse was performed by priests against male children between the ages of 12 and 18 -- just the kind of sexual predation which classifies as ephebophilia.
I know who "They" are in Steve's article -- "They" are the Pope and the upper hierarchy in the Catholic Church. And, according to Eric and Steve, "They" are not allowed to fix what is broken by trying to "avoid the near occasion of sin", particularly if the fix involves violating Steve's California ethos involving homosexuality.
It's obvious from Steve's article that no matter what the Church does, it won't be enough. The Church needs to just vanish, in his view. I can fully understand Eric and his entire family having the same viewpoint -- I'm not sure I could forgive the Church that placed their abuser into a position of responsibility either. But Eric, the Church taught me the meaning of an informed conscience -- that, if a Bishop of the Church were to try to make me do something that my informed conscience says is sinful, that I must refuse. A personal note: by the time I was 12, I understood that sexual activity outside of marriage was sinful, and I would certainly not (as your elder brother Edgar did) allow that filthy man to touch my younger brothers, much less my own body. I had three attempts by ephibophiles to manipulate me by the age of majority, and I rebuffed them all (of course, NONE of them were priests or anyone else associated with my Church). That said, we cannot depend on victims to defend themselves -- we must be proactive in their defense, as the Church is trying to be now.
The Church might move slowly, and with great deliberation, but at least it is finally addressing one of the root causes: ephebophiles being placed squarely into the path of temptation. My local parish (and I assume many if not all others in LA) has had several Q&A sessions, has had a former abused person talk at the Masses, all in an effort to prevent this from happening again. The rules are: (a) A priest must always have another non-clergy adult present when dealing with children (including driving them home after a church function), (b) any parishioner or priest witnessing abuse or suspecting abuse must report such abuse to both civil and church authorities, and (c) any priest reported for abuse will be removed and not returned to ministry unless they are cleared of the charges. These are pretty proactive positions to take, and Mahoney has to be applauded for taking them. Sadly, it is like closing the barn door too late, but better late than never!
Window Signs
Posted by unclesmrgol at 24 November, 2005 14:49:37
If you head on over to www.meetwithcindy.org, you are supposedly touching the personal thoughts of Cindy Sheehan, the anti-war mom whose new career (whether she knows it or not) is spitting for profit on the sacrifice her son Casey made in Iraq; her family has published a statement significantly distancing themselves from her public position, and reiterating their support for Pres. Bush's stated goals for Iraq. You can even get and print out a window sign showing your support for her public stance. But are you really dealing with Cindy or with a manipulated person? [And at this point, does it matter?] A quick check of the domain records for the site indicates that meetwithcindy.org is owned by a person named David Swanson of Cheverly, Maryland 20785.

The conspiracy theory that Cindy Sheehan is now being handled by professionals (or at least one single misguided professional) is confirmed.

Confirmation comes from the sheer number and volume of liberal sites managed/owned by David Swanson. My favorite is, of course, afterdowningstreet.org, in which the Downing Street memos, obviously produced and subsequently leaked by an anti-war person in Blair's cabinet, are trotted out as ipso facto evidence that the fix was in for the war in Iraq, and that the United States was reworking intelligence to support the drive to war. The memos are present locally on the site, and are a good read -- the politics of the writer are obvious in every sentence. These must rank up with the Bush memo "unearthed" by reporters CBS (detailing a supposed complaint by a military officer about the "free ride" Bush was getting in the National Guard), which turned out to have anachronisms in its construction and was ultimately ruled a fake. These, of course, are not fakes, but appear to have been generated by someone in the Home Office who wanted to make a point on official paper (remember, official paper makes everything true).
Fragging Prof Quits
Posted by unclesmrgol at 24 November, 2005 02:16:39
Professor John Daly, who attempted to bully a student attending his college, just resigned his position. As you can see from his statements below, he was one of those "Workers, rise up and unit!" kind of guys. Now he is gone, having had his 15 minutes.

Professor John Daly of New Jersey's Warren County Community College, to student Rebecca Beach:

Dear Rebecca:

I am asking my students to boycott your event. I am also going to ask others to boycott it. Your literature and signs in the entrance lobby look like fascist propaganda and is extremely offensive. Your main poster "Communism killed 100,000,000" is not only untrue, but ignores the fact that CAPITALISM has killed many more and the evidence for that can be seen in the daily news papers. The U.S. government can fly to dominate the people of Iraq in 12 hours, yet it took them five days to assist the people devastated by huricane Katrina. Racism and profits were key to their priorities. Exxon, by the way, made $9 Billion in profits this last quarter--their highest proft margin ever. Thanks to the students of WCCC and other poor and working class people who are recruited to fight and die for EXXON and other corporations who earning megaprofits from their imperialist plunders. If you want to count the number of deaths based on political systems, you can begin with the more than a million children who have died in Iraq from U.S.-imposed sanctions and war. Or the million African American people who died from lack of access to healthcare in the US over the last 10 years.

I will continue to expose your right-wing, anti-people politics until groups like your won't dare show their face on a college campus. Real freedom will come when soldiers in Iraq turn their guns on their superiors and fight for just causes and for people's needs--such freedom fighters can be counted throughout American history and they certainly will be counted again.

Prof. John Daly

On 17 November, the college of which both Daly and Beach are citizens determines it obviously has a bit of explaining to do:

For immediate release:
November 17, 2005

Warren County Community College is a "students first" college where learning without limits is always the main goal. We maintain a mission of building a community of learners through accessible, quality learning opportunities designed to meet personal aspirations for all students.

It has been brought to the administration's attention that a part-time instructor, Mr. John Daly, speaking for himself and using his personal email, sent a message to a student representing the Young Americans for Freedom in response to a personal email from her requesting him to announce an upcoming event on the campus. Mr Daly responded to her alone, and expressed his own personal views regarding his beliefs about this group.

The viewpoints of this professor in no way depict the views of Warren County Community College, its administration, or the Board of Trustees. The College does however support the constitution, the first amendment, and the right to free speech.

Additionally, Mr. Daly's message was sent as a one-to-one message, via e-mail, to one person, and not to the college community. Finally, the College is viewing this message as a personnel issue and will be addressing it according to the policies and procedures of the College.

Dr. Austin, college president stated, "I firmly believe every employee and student has first amendment rights, no matter how repugnant I personally find Mr. Daly's statements. Our attorneys have advised us of our obligation to follow state laws, board policies, and college due process in regards to any personnel matter. We are now investigating this matter further."



When a professor, using that official title, berates a student as Daly did, I think the college has an obligation to act. This was not a personal act -- it was an act under color of authority. Maybe the next community college board election will bring a clean sweeping broom.

Update: On 18 November, the college waffles 90 degrees:
For immediate release:
November 18, 2005

WCCC investigating controversial e-mail
Adjunct instructor?s comments gain national attention

WASHINGTON TWP. (Nov. 18, 2005) ? Officials at Warren County Community College are investigating political comments about the war in Iraq made by an adjunct instructor to a student via an e-mail message.

Responding earlier this week to a student?s invitation to attend a student club event, John Daly, an adjunct instructor of Basic Writing and Developmental English, e-mailed the student with a host of his own personal beliefs. The student club event, sponsored by the Young American?s for Freedom, featured Iraq war veteran Lt. Col. Scott Rutter as a guest speaker.

WCCC President Dr. William Austin personally welcomed guests to the event, held on Thursday, and introduced Rebecca Beach, president and secretary of the newly formed club. Lt. Col. Rutter?s talk was well received, and deemed a success by attendees.

WCCC is further investigating Mr. Daly?s conduct and his expression of views in the classroom and on campus.

Indeed, Mr. Daly?s comments have caused much controversy on and off campus. Dr. Austin said, ?I personally find Mr. Daly?s e-mail disgraceful and offensive, yet I must maintain that the college be a place for free expression, ideas, and open debate.?

Dr. Austin added, ?We must remember that Mr. Daly is just one instructor out of many here. These are apparently his personal political views. He does not represent the college?s views, mission, and core values. We are a small community college and are here to serve the community and will continue to do so.?

The college will continue to keep its pulse on this issue while maintaining its high standards of professionalism and integrity of all concerned, noted Dr. Austin.

WCCC Chairman of the Board, Ed Smith, said, ?We are fortunate to live in a world where so many brave men and women are willing to fight and die for our freedoms, including the right to express one?s opinions.?


Update: On 23 November, the college waffles to a full 180 degrees.
For immediate release:
November 23, 2005

Warren County Community College has always maintained its commitment to our students to provide a quality education. A recent event attracted national attention this past week. Statements were sent by an adjunct instructor to a student in response to her e-mail.

The College became aware of the impact of the instructor?s comments when it was inundated with local and national opinions from the public. Responding to that, the Board of Trustees and administration moved as quickly as possible to review and address the issue. A board meeting was scheduled for last night to present the issue to the Board; however, while the administration was preparing for that meeting, the adjunct instructor Mr. John Daly submitted his resignation. The Board of Trustees voted to accept his resignation at last night?s meeting.

President Dr. William Austin made clear that the community college is now reviewing and drafting tolerance policies for all employees and we will include this training in our next staff development day.
President Austin also appeared this morning on Radio WRNJ 1510 AM to assure the community that the College will move forward with a sense of enlightenment and resolve with its education mission and also apologized to all whom might have been offended by the incident. He added that, ?We are fortunate to have so many brave men and women fighting for our freedom. This Thanksgiving is an opportune time to thank them for their courage and pray for their safe return.?

In this Thanksgiving holiday, it is good to have at least two college board members who feel fortunate.
Quotable Quotes
Posted by unclesmrgol at 23 November, 2005 23:48:00
President William Jefferson Clinton [16 Dec 1998, on national TV]: "Earlier today I ordered America's armed forces to strike military and security targets in Iraq. They are joined by British forces. Their mission is to attack Iraq's nuclear, chemical and biological weapons programs and its military capacity to threaten its neighbors." [So we have President Clinton dispatching forces to deal with nonexistant WMDs about 2 years before Bush takes office.]

Max Boot in the LA Times: "Abu Musab Zarqawi may be losing on the Arab street (his own family has disowned him), but he's winning on Main Street." And on one side of the aisle in Congress.

Abu Musab al-Zarqawi family relation (renouncing him): "A Jordanian doesn't stab himself with his own spear."

Rep. Jean Schmidt, on the House Floor: "A few minutes ago I received a call from Col. Danny Bubp. He asked me to send Congress a message: Stay the course. He also asked me to send Congressman Murtha a message: that cowards cut and run, Marines never do." Marine Col. Bubp, a current member of the active reserve and a former active-duty Marine, while not having all the medals accorded to Ret. Col. Murtha, seems to have a better grasp of how Zarqawi and his ilk would view Murtha's ideas of retreating over the horizon to Kuwait with an option to go back in if the Iraqis need us. As Patton would say, "We're not interested in holding on to anything but the enemy. We're going to hold onto him by the nose and we're going to kick him in the ass..." And we and our allies are doing that quite fine where we are, thank you.

Abraham Lincoln, in the Lincoln-Douglas Debates; As a nation, we began by declaring "all men are created equal." There was no mention of any exception to that rule in the Declaration of Independence. But we now practically read it "all men are created equal except Negroes." If we are to accept this doctrine of race or class discrimination, what is to stop us in future from decreeing "all men are created equal except for Negroes, foreigners, Catholics, Jews," or just "poor people"? That is the conclusion towards which the advocates of slavery are driving us. "Let each State mind its own business," says Judge Douglas. "Why stir up trouble?" This is the complacent policy of indifference to evil, and that policy I cannot but hate.
[At this point in our history, the word "Negroes" can be replaced by "middle class Whites and Asians", given the government sanctioned race and class preferences in school admissions and in hiring.]

To what today would be called a Gold Star Mother (like Cindy Sheehan):
Dear Madam,

I have been shown in the files of the War Department a statement of the Adjutant General of Massachusetts that you are the mother of five sons who have died gloriously on the field of battle. I feel how weak and fruitless must be any words of mine that would attempt to beguile you from the grief of a loss so overwhelming. But I cannot refrain from tendering to you the consolation that may be found in the thanks of the Republic they died to save. I pray that our Heavenly Father may assuage the anguish of your bereavement, and leave you only the cherished memory of the loved, lost, and the solemn pride that must be yours to have laid so costly a sacrifice upon the altar of freedom.

Yours, very sincerely and respectfully,
Abraham Lincoln

Unrecorded is the reception Lincoln's message got.


Attack of the X-box 360
Posted by unclesmrgol at 23 November, 2005 23:19:53
On Monday, I had a date with density. I'm a Wallace and Gromit fan from way back, and have owned the 3 shorts on LaserDisk for years. Shortly before the Curse movie came out, Best Buy had a sale on 3 shorts DVDs and I rushed over to my local Best Buy here in Culver City to buy it. Nothing. Sold out. Next day, my wife tells me that her friend had gotten the last one off the shelf in Culver City about a half hour before I showed up. Now this was about a month and a half ago. So Wife is cruising the internet and discovers that she can query the stock for any item at any Best Buy. She knows I want the W+G DVD so she does the query. Out at Culver City. Out in West LA. Several in stock in Hawthorne. My opinion of people in Hawthorne goes way down. Don't these people recognize comedic brilliance when they see it? What are they, a bunch of aerospace freaks who's idea of good comedy is yet another viewing of Office Space? Well, their loss is my gain, I think, as I leave my aerospace job (and my red stapler in my basement office) and head on over to the Hawthorne Best Buy. Somehow, the thought of 3 W+G DVDs resting on a shelf somewhere in the back of the store makes me think the place will be deserted, and I'll be able to park my new Mazda 3 hatch in a place where it won't get dented by the door ding gnomes. Hoo, am I wrong. I pull up to the rear entrance of the parking lot and there are a bunch of people standing around the driveway. Normally, I'd just haul a huey and vanish, but I'm now on a mission. As I enter the parking lot, my eyes adjust to the dimness and I can see that what I thought was a bunch of random people is actually the tail end of a long line, complete with lawn chairs, stretching from the front of the store all the way back to the driveway I entered. Well, sorry people, but I'm committed (or ought to be). So I cruise slowly down the aisle looking for parking. Nope, not a space. And the front of the store has a whole bunch of large vehicles parked there -- a giant satellite truck (with a dish that would not look out of place on the Millenium Falcon), a Star Waggon makeup truck with all three stairs deployed, microphones, vidcams, etc. I cruise slowly out of the lot, trying not to hit any of the peds drunkenly swaying around in the lanes.

Next day, I go to work and casually mention what a circus I saw at the Best Buy yesterday. A co-worker replys "Oh, don't you know? The X-box 360 came out yesterday."

So much for my cultural sensitivity.
Bush's Popularity Rating
Posted by unclesmrgol at 21 November, 2005 23:54:15
We hear that
public doubts about the war have sent personal ratings for Bush and Cheney to an all time low.
Flashback to 1864. Abraham Lincoln was facing reelection after a war that had cost our country millions of dollars and hundred of thousands of fallen soldiers (two thousand Union soldiers had died in just a few minutes at the Battle of Antietem in 1862). Lincoln did not expect to be reelected -- much of the populace favored Democratic nominee George Brinton McClellan, who was opposing Lincoln on a platform of negotiation and disengagement from the war with the South on the principle that the war had been a failure and should be ended before more lives were lost. McClellan was not a friend to abolitionists; he argued that abolition was not a necessary condition of peace and reunion. McClellan also railed against the loss of civil liberties entailed by Lincoln's establishment of martial law in areas of the North where Confederate sympathizers were active. Such sentiments had great sway in many areas of the North, where everyone knew someone who had been grevously wounded or lost in the conflict, and where many lower class people felt that newly emancipated blacks would become competitors for scarce jobs. Such groups formed the core of the "Peace Democrats" (aka Copperheads) whose descendants still dominate Democratic politics today.
Lincoln probably would have lost the election, except that the Union armies in the field, led by Sherman and Grant, as well as Union navy forces led by Farragut, produced a series of unexpected victories which raised morale and sealed the South's doom.
Had General George McClellan been victorious in his election fight, we might have a far different United States than we do today, for his loss of two thousand men at Antietem would have been brought to naught by his own political maneuverings: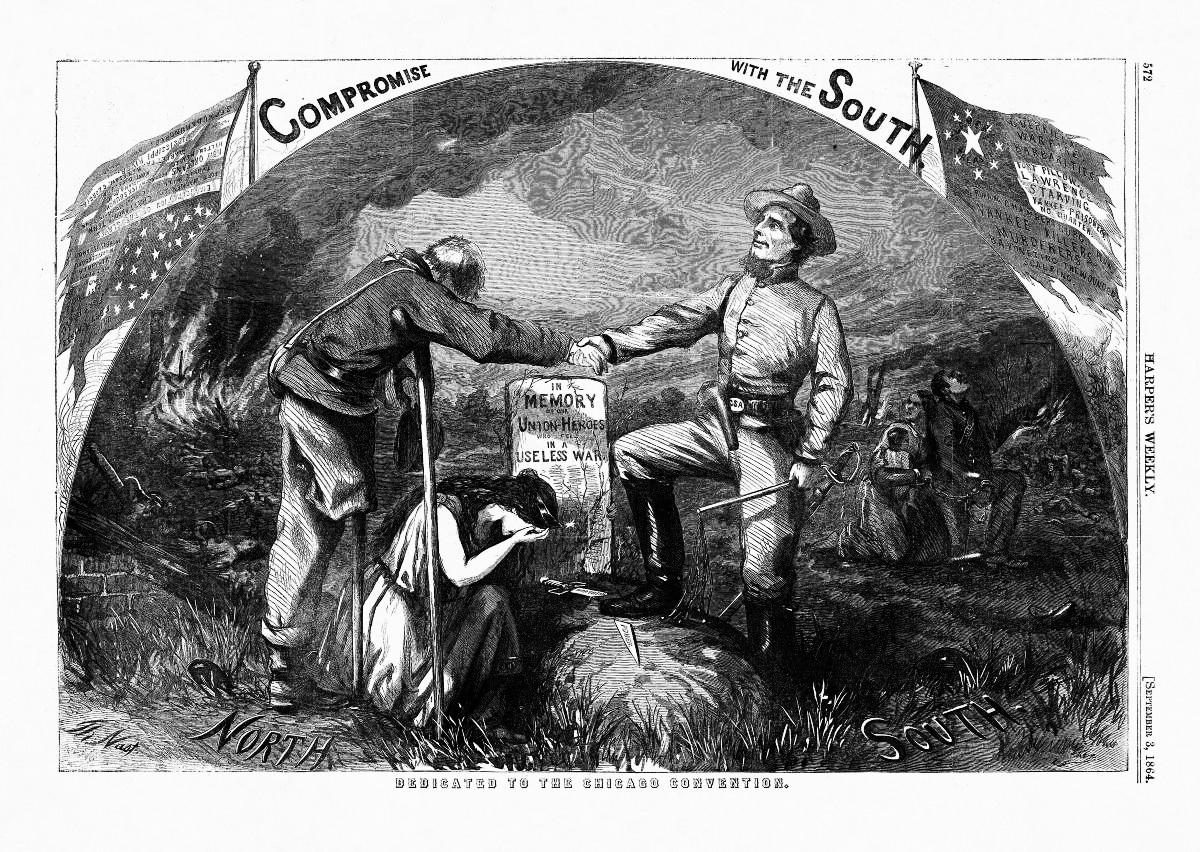 Bush needs a few of those kinds of victory now to remind people that, as terrible as a toll of two thousand is, they have not died in vain.
mailblock.com shuts down
Posted by unclesmrgol at 20 November, 2005 18:14:04
Found out that, on November 16, 2005, mailblock.com terminated its anti-spam service. At the top of the list of replacement contenders is supposedly (and very sadly) spamarrest.com. They have taken out a google ad and are sitting there at the top of every search associated with mailblock. I say "sadly" because I have a little tale of my own to tell about spamarrest.com and it isn't a good one. One component of spamarrest's technology is a challenge-response component. For those of you not in the know, challenge-response works like this:


Person A tells person B that person C called person B a dork.


Person B slugs person C and demands that he take back the insult.


Person C must take back the insult, even if he didn't say it, or Person B won't ever talk to him again.


Note that, in this whole conversation, Person C gets something done to him based on an action by Person A, regardless of any actual circumstances.
Person A is a spammer, and he is spamming using bogus userids in my domain name (e.g., fewmets.org) as return addresses. Person B is a spamarrest.com mailserver, which promptly mails my server a challenge-response message for the bogus userid used by the spammer. My server is a good mailserver, and any undeliverable e-mail gets sent to the "postmaster" account so a human can look at the problem and sort out the difficulty. The human (Person C) is me.
Anyone looking for a replacement for mailblock.com should
NOT
consider spamarrest.com.
My two cents today on the spam issue.